Getting an explainer video produced for your business is a good idea to get your message across. It can create a good impression and make it easy for people to remember your brand. However, there are some things you need to know before you start. It would be best if you had a script to create an animated explainer video or a simple one. The goal of your video is to connect with your target audience. A well-thought-out script can help you achieve this.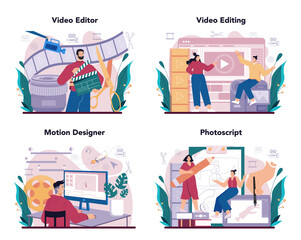 A clear and direct message is essential to Video Production. It ensures that your audience is engaged, which increases retention. It can also help you track your metrics and plan your future sales. The best explainer videos have a clear message that is short, easy to understand, and conveys a compelling message. They combine emotions and motion with static images and graphics to communicate complex concepts.
The first step in the production process is brainstorming. This will help you to uncover hidden talent and ideas. Brainstorming also helps you overcome the "blank page" syndrome. Next, write a one-page draft script. Then, you can begin to think critically and get feedback. Having a draft script will help you avoid mistakes. If you get feedback on your script, you can take it further.
Once you've completed your draft, the explainer video production team can begin to develop the final concept. This process includes selecting actors and visuals for your video. After the illustrations are approved, you'll move on to animation. This can be a tricky step because you're creating something from scratch. It's important to consider the demographics of your target audience.
Getting a voiceover for explainer video production is a great way to make your brand more memorable. With the help of an experienced voiceover artist, your video can be more authentic and convey a message most effectively. While you can hire an amateur voiceover artist, you may not get the best results. You should follow some tips to ensure that you get the best voiceover for your explainer video.
Ensure you get a voiceover for explainer video production from a reputable voiceover actor. You can look for someone who has worked on the screen and on stage. They should have a good recording studio and be responsive to your requests. It would be best if you also looked for someone with experience with marketing videos and tutorials. They should be able to meet tight deadlines. It would be best if you also asked for a sample of their work. You can ask for a sample of their voiceover by contacting them directly or by checking out their website.
Whether you're planning to use explainer videos for marketing, sales, onboarding, or thought leadership, you need to have a way to track your goals. The right video can increase brand awareness, decrease pressure on your support team, and even drive sales. You can implement a strategy that includes tracking your videos, using metrics, and measuring the ROI. One of the best ways to track your goals is to create a storyboard. It visually represents the story you want to tell in your explainer video. The storyboard will describe the background, characters, and other elements that will help you create an effective video.
The storyboard is a great way to show your audience what you're trying to say, and it's also a good way to get a general feel for how your video will flow. However, you'll want to ensure that you get a professional to create the storyboard. You can hire professional animators, illustrators, or voiceover artists to create your video. Explainer videos can be challenging to make, so you'll need a team of professionals to do the work for you. Depending on your budget, you may want to hire a full-scale production team to do all the work.
A professional voiceover can add value to your explainer video. A summary of your message should be included in the script. This will help your target audience know what to focus on. You can also change your focus by changing the scene or playing different music. Using real-life stories is a great way to connect your product or service with your audience. The story gives it life and helps your audience to relate to your product. It also helps to make your message more personal.
Explainer videos can be created in several different formats. Some are animated, while others are cartoon-style. The format and style will depend on your product or service and your budget. You can also hire a professional video agency to create an explainer video.